Basket | Rosalind Yiparti | Tjanpi | 20 x 20 x 5cm
$179.95
This vibrantly hued woven basket has been handmade by Rosalind Yiparti, an artist from the community of Kaltukatjara (Docker River) in the Northern territory. Featuring a striking design of purple, black and green bands - this basket is truly unique! 

Weaving with fibre in this way has become a fundamental part of Central and Western desert culture and draws on the traditional practice of making manguri rings - a ring worn on the head made of grasses and cloth.  Here we see traditional weaving techniques re-framed using a mix of traditional and contemporary materials - including wool! The result is a strikingly bold and colourful sculptural piece with layers of historical significance.
Tjanpi Desert Weavers is an aboriginal owned social enterprise that works with over 400 Anangu/Yarnangu women artists from 26 remote communities across the remote Central and Western desert regions. Tjanpi artists use native grasses, wool, string, seeds and feathers to make spectacular contemporary fibre art, weaving beautiful baskets and sculptures and displaying endless creativity and inventiveness. While out collecting desert grasses, women visit sacred sights and traditional homelands, hunt and gather food for their families and teach their children about country.

Details:
20 x 20 x 5cm
Materials: Tjanpi (grasses) Raffia
To view all the Tjanpi sculptures and baskets we have available click HERE

More about Rosalind Yiparti:
Rosalind Yiparti is an artist belonging to the Pitantjatjarra language and cultural group, and lives in the remote community of Kaltukatjara (Docker River) in the Northern Territory. Rosalind was born in 1944 and went to school at Utju (Areyonga). Rosalind has been making tjanpi baskets for some years, and made her first tjanpi sculptures in 2007, learning these new skills at a Tjanpi workshop. She has a wonderful sense of colour, which can be seen in her tjanpi works. A multiskilled artist, she also paints and makes punu.

Please note: measurements are approximate due to the 3D nature of Tjanpi baskets.
---
Vase | Selene: Greek Goddess of the Moon
$160.00
---
Follow the moon and bring those magical vibes into your space with this ethereal vase! Selene is at hand to infuse your home with her diaphanous and quirky style.With plenty...
Cracker | Set of 6 | Studio Milligram
$29.95
---
Bring your loved ones together and celebrate Christmas in style with this set of 6 crackers inspired by the beautiful landscape of Australia. Bringing effortless style to your table, each...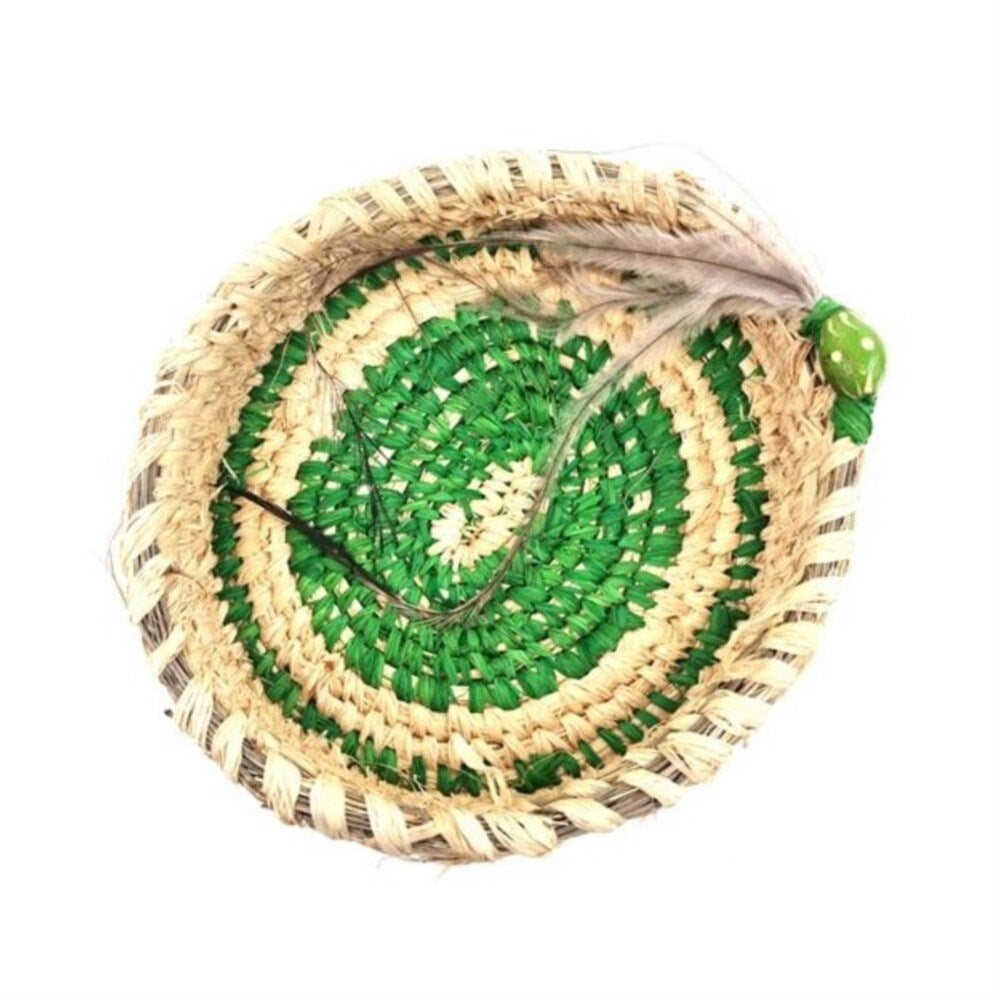 Basket | Katherine Coulthard | Tjanpi | 21 x 21 x 7cm
$179.95
---
This vibrantly hued woven basket has been handmade by Katherine Coulthard, an artist from the community of Finke, in the Northern Territory. Featuring emu feathers and a stunning hand painted gumnut-...